Nous souhaitons tous revenir à notre vie avant le COVID-19, mais il faudra encore un peu de temps. Pour le moment, nous devons nous adapter au mieux à la nouvelle réalité avec beaucoup de restrictions à notre vie sociale, professionnelle et personnelle.
Le retour au bureau dans ces circonstances peut créer une dose supplémentaire de stress, anxiété et incertitude.
Pour cette raison nous avons créé le Programme Retour au Bureau.
//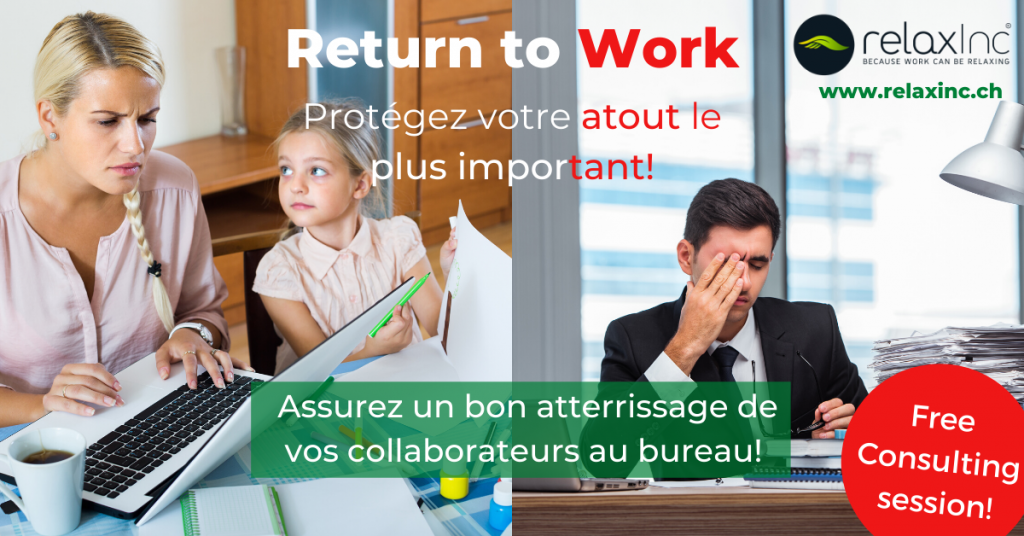 We all desire to go back to same life as before COVID-19 but it will still take a lot of time before it happens. For now we must adapt the best we can to the new reality with a lot of restrictions to our social, professional and personal life.
The return to work under this circumstances, even if required, can create extra dose of Stress, Anxiety and Uncertainty.
This is why we created the Return to Office Program.
Video Health Day Previous edition
Programme de 30 jours pendant le mois de juin avec une variété d'ateliers en ligne couvrant tous les aspects de la santé et du bien-être. De l'activité physique, du yoga, de la méditation, de la nutrition, du coaching, de la sophrologie, aux présentations et discussions sur les mécanismes d'adaptation à cette réalité ainsi que les sujets de productivité et Coaching.
Cela reste un programme modulaire: nous pouvons l'adapter à vos besoins spécifiques, comme par exemple la formule cours de Yoga uniquement.
//
A full program of 30 days during the entire month of June with a variety of online workshops covering all the aspects of Health and Well-Being. From Physical Activity, Yoga, Meditation, Nutrition, Coaching, Sophrology, to presentations and discussions in coping mechanisms as well as productivity and Coaching topics.
It remains a modular program, so we can adapt it to your specific needs. For example, we have Yoga only packages.
Should internal policies allow, we can mix our online activities with some face to face activities, like the Chair Massage. Our face to face activities follow the OFSP guidelines.
Vous choisissez ce que vous payez!
Vous pouvez soit payer un forfait unique avec accès illimité à toutes les activités pour tous vos collaborateurs, ou vous pouvez payer par chaque inscription individuelle.
//
You choose what to pay!
You can either pay a single fee with unlimited access to all activities to all your employees, or you can decide to pay per participant that actually booked the activity.
Contactez-nous pour plus de détails
Contact us for more details